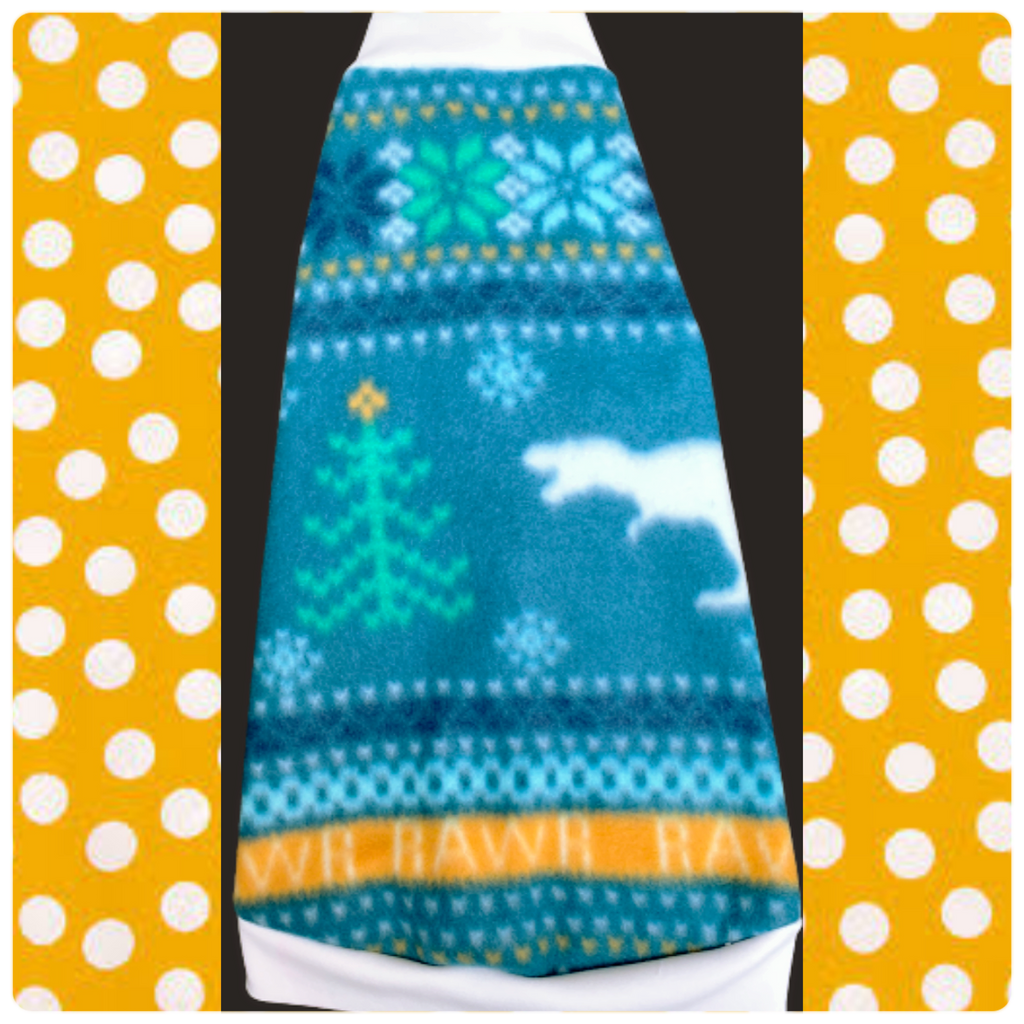 Fair Isle Teal Fleece "Winter Dinos"
---
Please read!  As many of you know, we always try to maximize the design of each fabric.  This will not be one of them.  You will have to love the entire look of this fleece as we were not able to place the dinos and trees in every shirt--particularly Tweener and smaller sizes. Despite this, this fleece is over the top cute or we otherwise would not have finished it.  So if you are buying this shirt in a smaller size, please know the trees and dino's will not be front and center, but we think you will love it anyway!
Nudie Patooties Fleece shirt for your sphynx cat, sphynx kitten, cornish rex, peterbald and devon rex cat.  Sphynx cat clothes, shirts and sweaters. 
REMEMBER, FLEECE RUNS SMALLER than most fabrics!  If your kitty is at the top of a size--order the next size up!  If you have questions, please use the live chat or email us before you order! 
Size and fit chart: https://www.nudiepatooties.com/pages/sizeandfit
We recommend pre-soaking fleece inside out in a small sink with Oxyclean and hot water to remove oils!  Rinse, then wash in a washing machine and hang to dry. 
Tweener size is our most mis-ordered size!  Tweeners are almost always kittens about 5-7 months!  At this age, their bodies are very lean and growing long.   Almost all kittens at eight months will wear a Biggies or Chubba Bubba size! 
If you have a new kitten and need help, please feel free to contact us or read or our blog, Guide for Buying Sphynx Kitten Clothes, Eight Months and Younger here:  https://www.nudiepatooties.com/blogs/nudie-patooties/guide-for-buying-sphynx-kitten-clothes-eight-months-and-younger
No surprises at check out! Domestic orders 25.00 and over ship free, flat rate international shipping, and fast shipping!
---
Share this Product
---
More from this collection